Queen's Award | Honoured by the Queen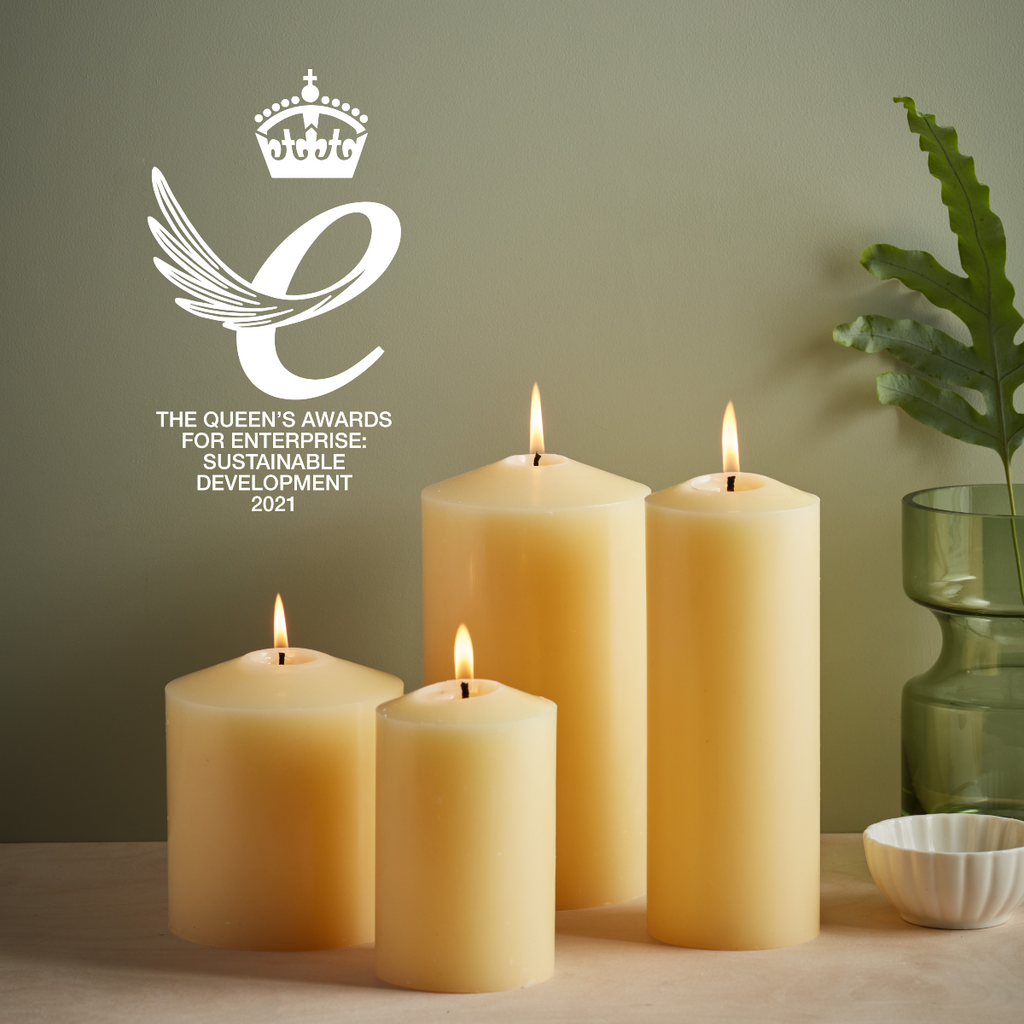 We are delighted to announce that Her Majesty The Queen has approved the Prime Minister's recommendation that St. Eval should receive a Queen's Award for Enterprise in Sustainable Development.  
This is the first ever Queen's Award for a candle manufacturer representing the highest accolade for business success and sustainable practices. The honour is only given for commercially successful products, services and management that benefit the environment, society and the economy, and we couldn't be more proud.
We are one of only 205 organisations nationally to be recognised with a prestigious Queen's Award for Enterprise this year, and one of only 17 award winners in the Sustainable Development category. Plus, we are the only 2021 award winner for Cornwall. This is an incredible achievement and we are absolutely thrilled.
Our CEO, Ian Greaves, believes a key element to St. Eval's success has been the people at the heart of the business. From protecting wildlife on site and championing plastic-free packaging, to helping customers understand the benefits of sustainable production and much, much more. He shared:
"As we have grown over the years, we have always strived to put sustainability at the heart of all we do. I am immensely proud of the team here at St Eval in the way that the whole team have worked so hard at building a not only successful, but also an ethical and sustainable business which continues to go from strength to strength."
He continues: "Being a manufacturer in rural Cornwall brings its own challenges, but we are very proud of our Cornish heritage and are delighted to bring this award back to Cornwall and demonstrate that a manufacturing company, whatever its location, can thrive and grow in a sustainable way.
As a company, we are determined to set the standard for actions to preserve and nurture the natural world around us. "
The Queen's Award for Enterprise for Sustainable Development will be conferred upon the team at our factory in a ceremony presided over by the Lord Lieutenant of Cornwall, date to be confirmed.
We are so thrilled to be recognised in this way. People and planet are at the very heart of our business, so to have our efforts recognised with a Queen's Award for Enterprise is a pivotal moment in our company's history.
We proudly produce our own sustainable energy via wind, solar and biomass; helping to reduce our carbon footprint and impact on the environment.
Our innovative triple energy solution integrates wind, solar and biomass energy power to heat buildings and the water used on-site, in addition to a 'water-to-air space heater' heats the air in the warehouse.  The latter reduces energy consumption as well as feeding surplus electricity back into the local grid to serve our local community.
Ethics and sustainability are values that reach throughout our team and practices. We have a dedicated Environmental Team of St. Eval employees, from all areas of the business, who meet regularly to discuss all things eco. Their aims and objectives are to lead the way in environmental and business sustainability and to strengthen and reinforce St. Eval's company values.
To further support our sustainability ethos, we have pledged to be plastic-free by 2022 and are well ahead of this target, having recently introduced new 100% recyclable packaging for our Reed Diffuser Collection and Scented Tealight Collection.
The prestigious Queen's Award for Enterprise in Sustainable Development recognises and celebrates St. Eval's outstanding commitment and achievement in sustainability across the businesses operations. This award further enables us to set the standard for other UK candles manufacturers and pioneer greater leadership in sustainable British manufacturing. We will continue to create new and exciting candles and fragrances, inspired by nature and following our core values; to protect, nurture and respect each other and the earth.
For all press and media enquiries, please contact Sarah Hemming, Marketing Manager, by email info@st-eval.com, or telephone 01841 540850.
#stevalcandles #QueensAwards 
Sara-Jayne Crowle