St. Eval's Queen's Award Presentation & Grand Opening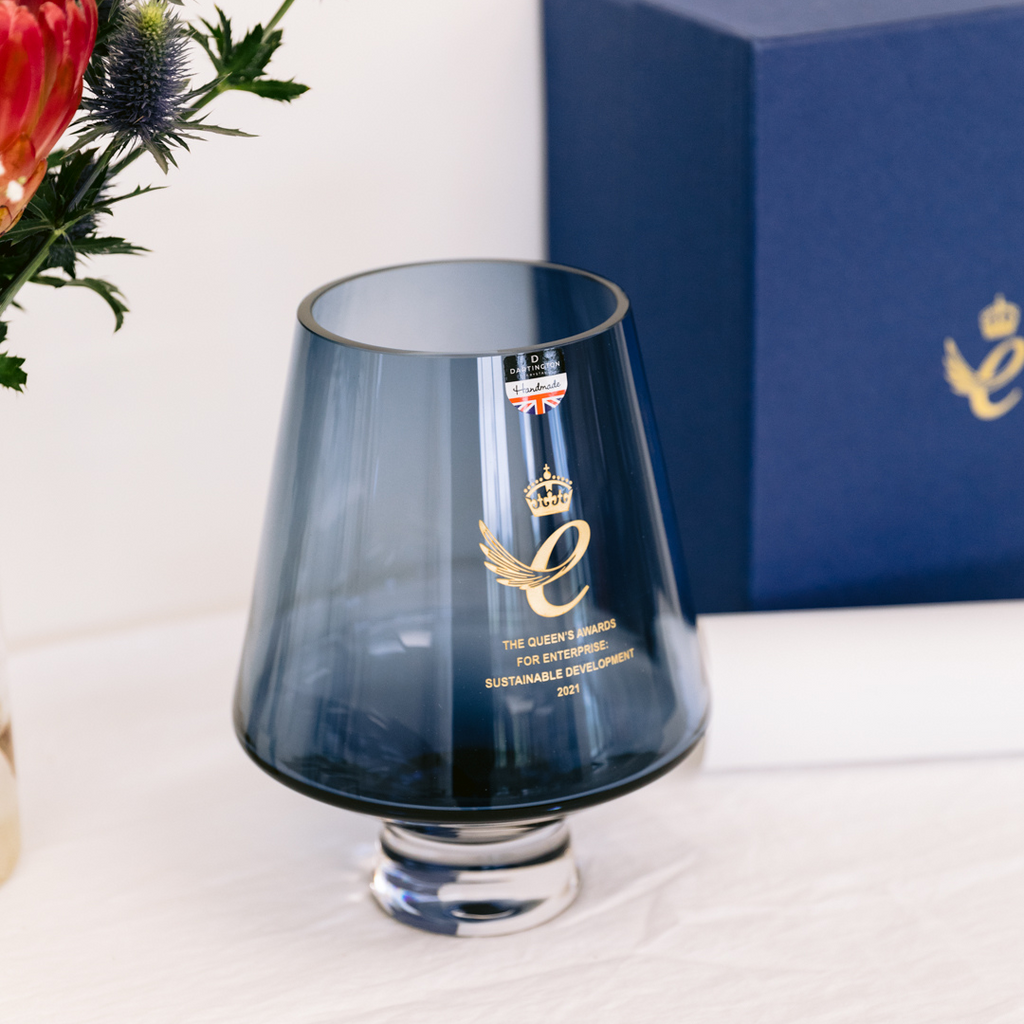 On Tuesday the 28th June we hosted a grand opening of our new factory and office expansion, wildlife conservation area and pond. While we celebrated this exciting step for our business we were honoured to finally have had our 2021 Queen's Award for Enterprise in Sustainable Development presented to us. We opened our factory doors to St. Eval friends, businesses and neighbours to help us celebrate this wonderful event and achievement.
We were honoured that the Lord Lieutenant of Cornwall and the Chairman of the Council attended the event to confer the award upon the team as HM The Queen's representative.   St. Eval's   owner and artistic visionary, Sarah Young-Jamieson, received the award on behalf of the company and we are overjoyed to finally be able to display this incredible achievement proudly in our factory. 
Founded nearly 30 years ago by Sarah and her late husband Tim, sustainability has always been at the very heart of St. Eval.   Sarah Young-Jamieson and Ian Greaves, CEO at St. Eval, both gave touching speeches of thanks to the wider team and businesses who have supported St. Eval's growth and made our achievements all the more possible; receiving our Queen's Award truly means a lot to everyone at St. Eval.
We've worked incredibly hard to build a business that is mindful of the planet and as sustainable as possible, so we were thrilled to have our efforts and passions recognised in this way. We are also the first-ever candle manufacturer to achieve this award, which makes it even more special for us.
We proudly produce our own sustainable energy via wind, solar and biomass; helping to reduce their carbon footprint and impact on the environment. In 2011, the UK's quietest Wind Turbine was erected on our farm which, alongside solar panels and a biomass boiler, helps to produce enough energy to power the entire factory. The innovative triple energy solution integrates wind, solar and biomass energy power to heat buildings and the water used on-site, in addition to a 'water-to-air space heater' heats the air in the warehouse. The latter reduces energy consumption as well as feeding surplus electricity back into the local grid to serve the local community.  
Being awarded a prestigious Queen's Award for Enterprise in Sustainable Development recognises and celebrates our commitment and accomplishments in sustainability.
After receiving this amazing award, the whole St. Eval team gathered together as we officially cut the ribbon to open our brand new factory and office space! A day of double celebrations.
The new factory and office space has given us the space to add 200 extra solar PV panels to contribute to the renewable energy that we already power our production with. With renewable energy powering this building and an incredible wildlife conversation area and pond created as a haven for wildlife, this expansion enables us to cultivate a place for nature to flourish and grow our renewable energy portfolio to further support our sustainability pledge and we couldn't feel more proud and delighted. 
Our new wildlife space has been created in partnership with amazing local companies to ensure that only native or non-invasive species of flora were planted to encourage biodiversity in the area whilst also maintaining and protecting it.
The trees and flowers that we've planted were chosen not only for their wonderful natural beauty, but for their hardy nature so that they would thrive whilst living on the coast surrounded by the sea air. Amongst these newly cultivated areas we've also made sure to leave designated spaces untouched for rewilding, and alongside this we've planted two Crimean Lime Trees which originate from the Ukraine, showing our solidarity with the country and its people.
(Swift nesting boxes and bat roosts on our new factory building from Cornish company green&blue)
With these stunning additions we hope that insects and wildlife will find a safe refuge at St. Eval. We have included bee bricks, swift nesting boxes and bat roosts made in Cornwall from 75% waste china clay, and we've created a swallow nesting space in an area of the site where they've been known to nest before. All of these inclusions will encourage Cornish fauna to make their homes here; already we've been joined by dazzling blue dragonflies, pretty butterflies and majestic swallows, and we're so excited to see our wildlife haven continue to grow.
Ian and Sarah hosted a tour of our brand new factory for the Lord Lieutenant and the Chairman of the Council, guiding them through the building and showcasing our fusion of traditional and contemporary practices and the full scope of products we produce at St. Eval; from tin candles and tealights, to potted candles and reed diffusers. 
We would like to extend a huge thank you to the local charities, businesses, neighbours, and dignitaries who attended the open day including Cornwall Wildlife Trust, Cornwall Manufacturers Group, Watson Marlow, Falmouth University, Fishermen's Mission charity and Happy Habitats to name a few. Thank you for joining us in celebrating everything St. Eval and witnessing this exciting next step in our sustainability journey. 
#stevalcandles #sustainability