Celebrate National Cream Tea Day 2021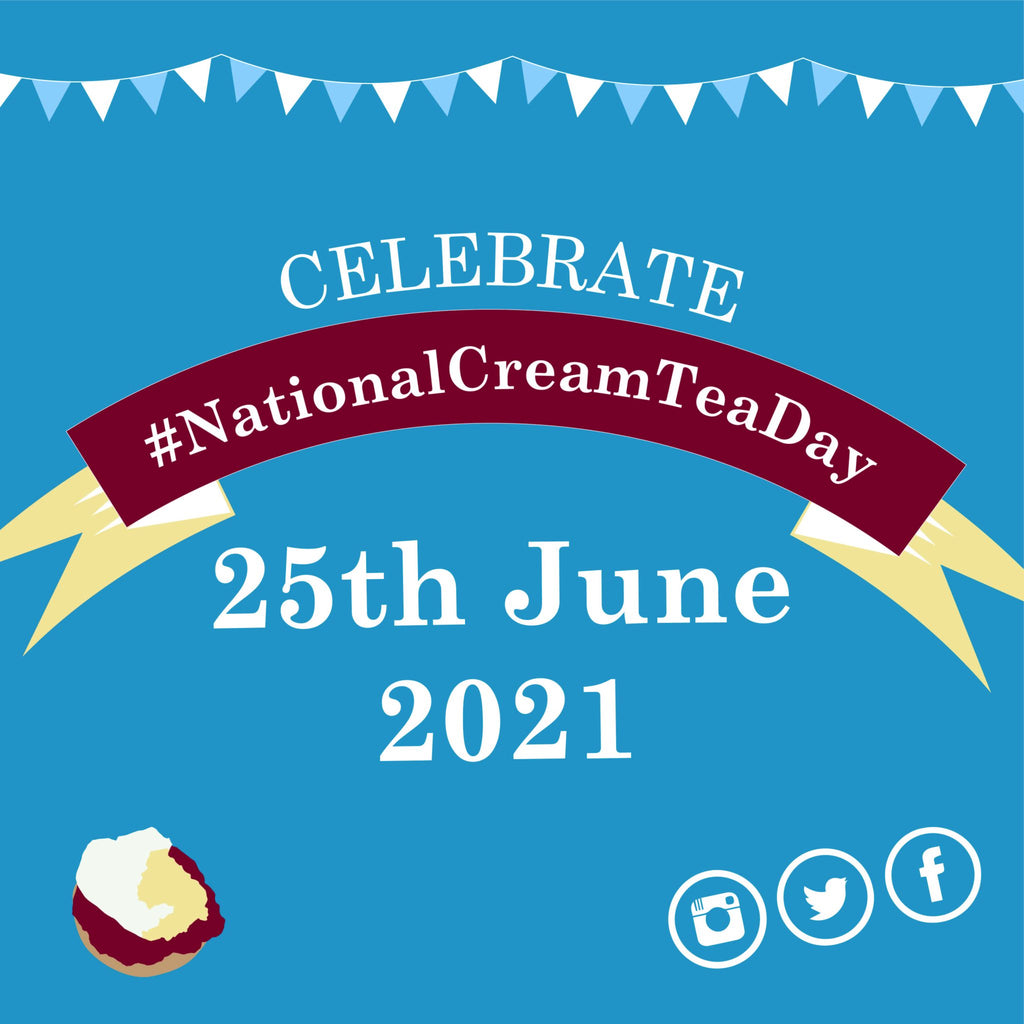 Crumbly scones, delicious fruity jam, lashings of Cornish clotted cream and perfectly brewed tea. No matter how you serve your cream tea - jam or cream first - there is no denying that this quintessentially British treat is anything other than delicious.
Dating back to the early 19th Century in the South-West of England, the classic cream tea with our beloved scones, jam and clotted cream was born. Before this time, a date which is often debated, there used to be a tradition of eating bread laden with jam and clotted cream where it is thought the original concept occurred.
This indulgent snack then flourished and became popular among visitors travelling towards the South and in afternoon teas for those looking to relax and indulge. Over the years, with the exception of bread changing into scones, the custom has remained for the jam to always be strawberry and for the cream to be clotted. But nowadays, people use all types of fruit jam such a plum and apricot, or even opt for a savoury version with cheese scones and chutney. 
This National Cream Tea Day, bring a little bit of the West Country to wherever you are and make some delicious scones yourself. This recipe by Mary Berry from BBC Good Food is wonderfully simple and makes a lovely treat.

Image credit: BBC Good Food
Mary Berry's Scones from BBC Good Food
Ingredients
450g/1lb self-raising flour
2 level tsp baking powder
50g/1¾oz caster sugar
100g/3½oz butter, softened, cut into pieces
2 free-range eggs
a little milk
handful sultanas (optional)
Method
Preheat the oven to 220C/200C Fan/Gas 7. Lightly grease two baking trays.
Put the flour, baking powder and sugar in a large bowl. Add the butter and rub in with your fingertips until the mixture resembles fine breadcrumbs.
Crack the eggs into a measuring jug, then add enough milk to make the total liquid 300ml/10fl oz. Stir the egg and milk into the flour – you may not need it all – and mix to a soft, sticky dough.
Turn out onto a lightly floured work surface, knead lightly and work in the sultanas, if using. Roll out to a rectangle about 2cm/¾in thick.
Cut into as many rounds as possible with a fluted 5cm/2in cutter and place them on the prepared baking trays. Brush the tops of the scones with a little extra milk, or any egg and milk left in the jug.
Bake for 12–15 minutes, or until the scones are well risen and a pale, golden-brown colour. Lift onto a wire rack to cool. Eat as fresh as possible.
To serve, split the scones and serve with strawberry jam on the plain scones along with a good dollop of clotted cream (jam first, remember!)
The Cream Tea Society, founded by Rodda's Cornish Clotted Cream and Wilkin and Son Tiptree, are calling on the Great British public to enjoy an online cream tea from the comfort of their own home this National Cream Tea Day.
Here are some of the homemade scones our St. Eval Office Team made to enjoy. As they are still mostly working remotely, these delicious bakes were shared with family and friends. We'd love to see your creations, share with us on Facebook, Instagram or Twitter.
We think you'll agree that everyone's bakes look delicious!
Happy National Cream Tea Day everyone.
Let's get baking and don't forget to tune in to the Cream Tea Society's National Cream Tea Day virtually here. 
#nationalcreamteaday2021 #nationalcreamteaday #stevalcandles
Sara-Jayne McKinty