Fragrance Friday | Orange Blossom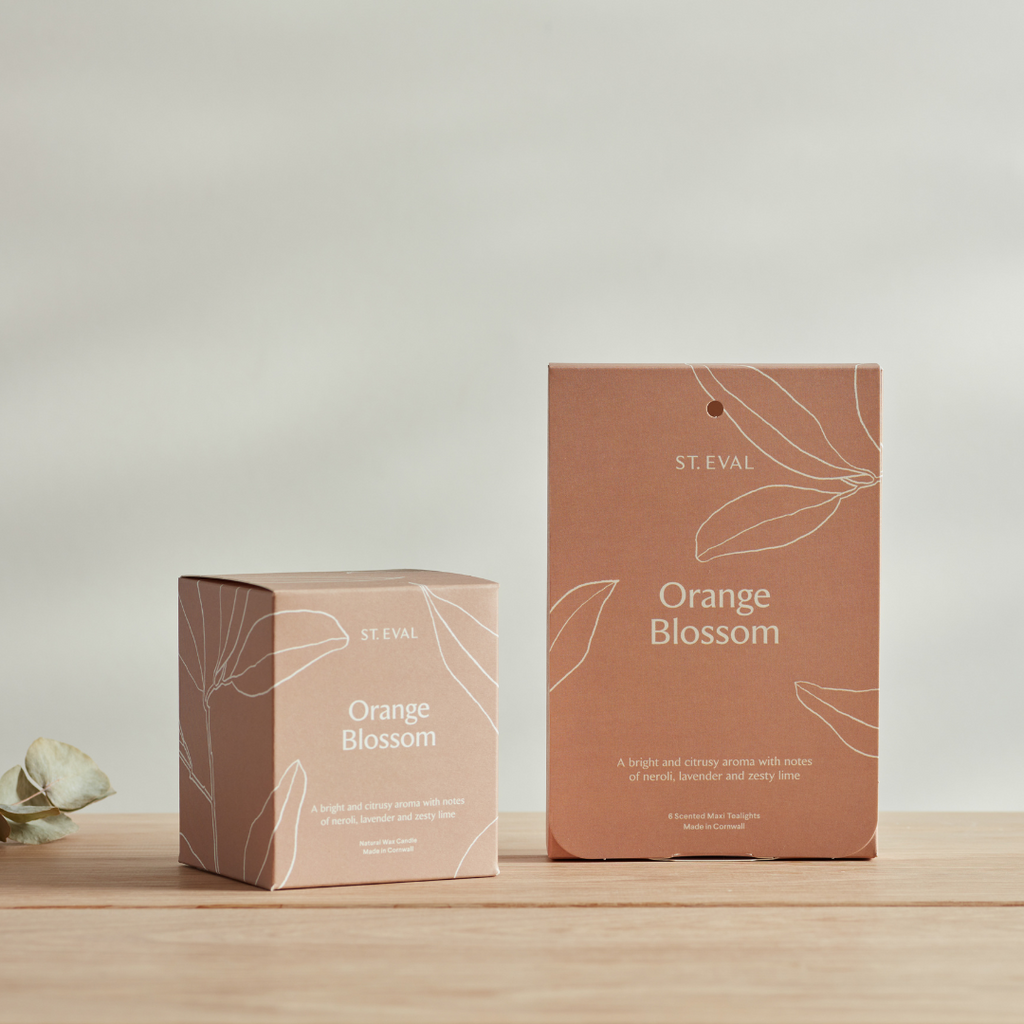 Here at St. Eval, we feel lucky to be surrounded by an abundance of nature in the Cornish coast and countryside. With the natural world as our muse, we utilise the most wondrous elements of the beautiful outdoors to inspire and continually craft new and exciting fragrances. This week, we delve deeper into our new Lamorna Collection and shine a light on the scent-sational Orange Blossom.
Composed of our new unique blend of natural wax, Orange Blossom's enchanting fragrance uplifts with its effortlessly bright and citrusy aroma. Featuring beautiful notes of orange blossom and neroli, lavender and zesty lime, Orange Blossom is the perfect scent to put a spring in your step.  
Orange Blossom
Once believed to symbolise paradise and love, the wonderful spring flowering orange blossom is seen as a sign of good fortune and moral value. Native to India and China, the white fragrant flower of the bitter orange tree can now be found all over the Mediterranean Sea, from Italy and Spain to Morocco and Tunisia. Though orange blossom originates from the same flower as neroli, the different method of extraction offers a fantastically floral, citrusy, sweet and enchantingly warm scent.
Tempting you into the magical Mediterranean summertime, orange blossom oil is an essential oil popular among oriental perfumes due to its exuberantly exotic touch. Used in traditional massage products for its stress and anxiety reducing properties, orange blossom captivates a spellbinding fragrance, renowned for inspiring a sense of security and wellbeing.
Lavender
Derived from the Latin word "lavare" meaning "to wash", lavender's historical origin and present perception is deeply rooted within herbal hygiene and alternative medicine. Established as a holy herb over 2,500 years ago, lavender is an essential oil believably native to the Mediterranean, Middle East and India. Scientifically proven to positively affect people with mild sleep disturbances, essential oils are commonly used in aromatherapy to aide relaxation and to curate a calm and serene environment.
A widely recognised natural remedy for stress, lavender is popularly used in candles and home fragrance as its enthralling aroma creates an anxiety-reducing ambience. Traditionally considered a feminine fragrance, lavender's delicate, floral and charismatic green notes enchant the senses and soothe the mind.
Lime
Powered with a fresh, sharp and zesty scent, limes' citrus and exotic roots encapsulate a bold boost of vibrant freshness. Beloved for their fullness of flavour and fragrance, limes are commonly found in the kitchen and cherished for their vitamin C benefits.
Limes help to create compositional clarity in home fragrance, enhancing associated citrus fruit scents and adding a breath of fresh air amidst floral fragrances. Awakening our senses, in our Orange Blossom fragrance the energising properties of limes pair excitingly with the rich and complex scent of orange blossom, neroli and lavender to create an evocative fragrance and an uplifting ambience.
This collection of citrus infused fragrances perfectly compliment each other within our brand-new, elegantly simple Lamorna Glass Candles. Inspired by an area of outstanding beauty in West Cornwall, Orange Blossom invites the joyful nostalgia of the spring and summer seasons indoors, adding a special sparkle to the everyday. Discover our all-new Orange Blossom fragrance here.
Why not share your favourite St. Eval fragrance and show us which scents you'd like us to see in our next Fragrance Friday. Share with us on socials @stevalcandles, or via email marketing@st-eval.com.
#fragrancefriday #behindthefragrance #lamornacollection #orangeblossom #naturalwax
Ella Rowe-Hall