Shine A Light | Vinegar Hill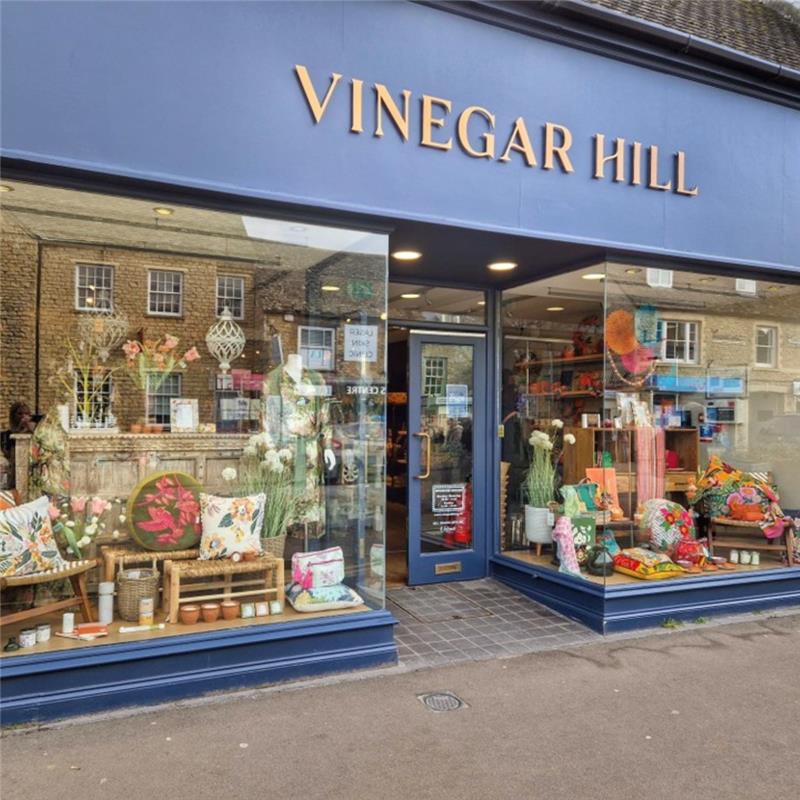 At St. Eval, we are immensely proud to partner with so many exceptional stockists. In our newest blog series, we want to shine a spotlight on the incredible family-owned, small and larger organisations and independent businesses that we are honoured to work with who help us share St. Eval with customers far and wide.
Our high streets help breathe life into our local communities and play a key role in keeping our economies thriving and we truly appreciate all they have to offer; we wouldn't be where we are without our loyal stockists and customers who choose to support and buy local. As a business, we feel passionately about the importance of supporting local in whichever way we can. In the first of this new series, we are shining a light on one of our longstanding St. Eval stockists, Vinegar Hill. 
With family at the forefront of the business, siblings Beth, Debbie and Richard Austin have amassed over 25 years' experience as an independent retailer. Inspired by interior design and rooted in a love of sourcing products, Vinegar Hill offers a variety of carefully curated homeware, gifts and stylish clothing from the UK and around the world. Since first opening their doors in Stratford-Upon-Avon in 1997 Vinegar Hill have organically expanded, now welcoming customers across the UK in their nine idyllically located stores in Shrewsbury, Bath, Cheltenham, Windsor, Hitchin, Henley-on-Thames, Farnham, Bishop's Stortford and Witney.
We had the privilege of speaking to Beth Austin as she discussed the history and all that is at the heart of Vinegar Hill.
Could you share with us the history behind Vinegar Hill? What was the passion behind the project?
'I love interiors, and my background was more on the interior design and decoration side, but I wanted to focus much more on retail. It was the love of sourcing products and creating an environment that people really enjoyed being in, that they find inspirational.
I took a year out to go backpacking with my sister in New Zealand and Australia. We found New Zealand and Australia really inspirational for their homewares, and how they merchandise their goods and the products that they sell. Whilst we were down in the South Island there was this little signpost for Vinegar Hill and I just thought wow, what an amazing sounding name, so I just mentally retained it and then didn't think too much about it until later. I really love how it doesn't overly tell anyone anything, that it doesn't give too much away!
We opened the doors to a very small store in Stratford-Upon-Avon and that was a great success, and then we realized it just wasn't big enough so we literally moved further along the street to a bigger store where we could properly roll out homewares and interiors, and just have a greater splash. It's grown very organically, and we've just opened stores which we've found, and that are right for us. One thing we've found is that you're always learning new stuff because you must keep evolving, and obviously bringing good, lovely and very capable people into the business which helps you bring it onto the next level.'
What sets your store apart from others on the high street?
'Whilst there's always that thread of constancy that runs through the stores, there's always a little bit of differentiation, so they're never truly an identical copy of each other. What I think our stores offer is this element of feeling, this excitement surrounding an independent store which has a little something different about them, something more inspirational. I love that we have a little bit more freedom on visual merchandising to help achieve this, and to help make the best use of the space that each store offers.
I personally think people want to go into a store and see individuality, to not feel like they're standing in a store that looks and feels identical in every way, and that's why when taking on a new unit we always ensure that it has some character about it. I really feel like it gives each store their own personalities, that something that is a little bit different.'
What value do you believe candles have personally and for your store?  
'I think candles have had a bit of a renaissance over the years. People are becoming a bit more educated about them and once they find a certain company, fragrance or product that they like they come back again and again.
There's also something very nostalgic about candles. I used to burn St. Eval's Tranquillity scent a lot, and that fragrance immediately takes me back to those early days –it's amazing how the power of a scent can transport you back to another time.'
What initially attracted you to St. Eval?
'We think it's still important and lovely to have the traditional candles, such as the church candles which St. Eval offers. I also love the elegant and minamilistic product packaging; it has a nice constancy and it's very classical. 
We personally have pulled away from some of the more commercial brands because we just didn't want to be associated with them, but St. Eval has always been a favourite with lovely fragrances which customers just continue to come back for again and again. It has a very loyal following, and often find that people come in specifically for their favourite St. Eval product.' 
What is your best-selling St. Eval product or fragrance, and what is your personal favourite? 
'After undertaking our Spring/Summer supplier research, we admittedly weren't surprised that it was Bay & Rosemary that was consistently number one. Ironically during winter it's Bay & Rosemary again and again, it's just such a fragrance that stays with you. I must admit that it's Bay & Rosemary for me as well! I always come back to Bay & Rosemary, it's just such a great fragrance.'
How are our St. Eval products displayed and how does it compliment your stock?
 'We sit it all together, it has space, and it's in good quantities so it looks strong. We find that if somebody wants to shop St. Eval they want to see everything they can buy all in one place. Having said this, when Christmas lands we site it at the front of the store in its own right. We invest a lot of time on visual merchandising in our stores, and this definitely plays a key role in showcasing products effectively.'
What do you believe St. Eval's ethos and products add to your store? How do your values align with ours?
'We're both family-founded businesses, and we've had our similar and different journeys along the way. Looking back over the years, St. Eval is a consistent brand that we've always wanted to sell; an integral part of our stores.
We want to work with people like us; businesses and brands that emulate the same values and ethos as we do. We love St. Eval's origin story, starting from a small family business that has grown over time, much like us. We love that St. Eval incorporates contemporary methods and preserves heritage, keeping the valuable element of traditional hand made products and craftmanship alive.'
 What are your plans and hopes for the future?
'As a brand, we're always looking out for great opportunities, and for how the business evolves and changes. That's the great thing about being a family business, we have that extra bit of scope to dip our toes into something else and try it, and we think that's great!
We're currently growing our own brand of textiles, soft furnishings, paper products and jewellery which we want to continue to grow. We put that under the Vinegar Hill brand, and it gives us a bit of a unique selling point, it helps us offer something a bit different. We also want to continue to grow our stores, and we're just about to sign for a new store in Berkhamsted in Hertfordshire, so that's certainly something to look forward to in the Spring!
Someone always said to me that we're a nation of shopkeepers and I do fundamentally believe that. I still think that people really do appreciate going to the High Street and into a store that's beautifully presented and curated, with good service which captivates how it's about people and connection, and about community. You can never represent the feel of going into a store, its just the experience and the engagement with the senses that is so special.'
We want to say a huge thank you to Beth and Vinegar Hill for their time, wonderful business story and continued loyalty.
With our Shine A Light Series excitingly underway, we invite you to join our journey across the UK and to delve into the amazing communities which our local stockists reside. We can't wait to unearth the passion behind the projects which keep our beloved high streets so full of life.
Explore Vinegar Hill online here, and get in touch with our customer services team at info@st-eval.com  to discover your nearest St. Eval stockist. 
#shinealight #shoplocal
Ella Rowe-Hall