St. Eval x Exploding Bakery | Autumn Scents & Delicious Treats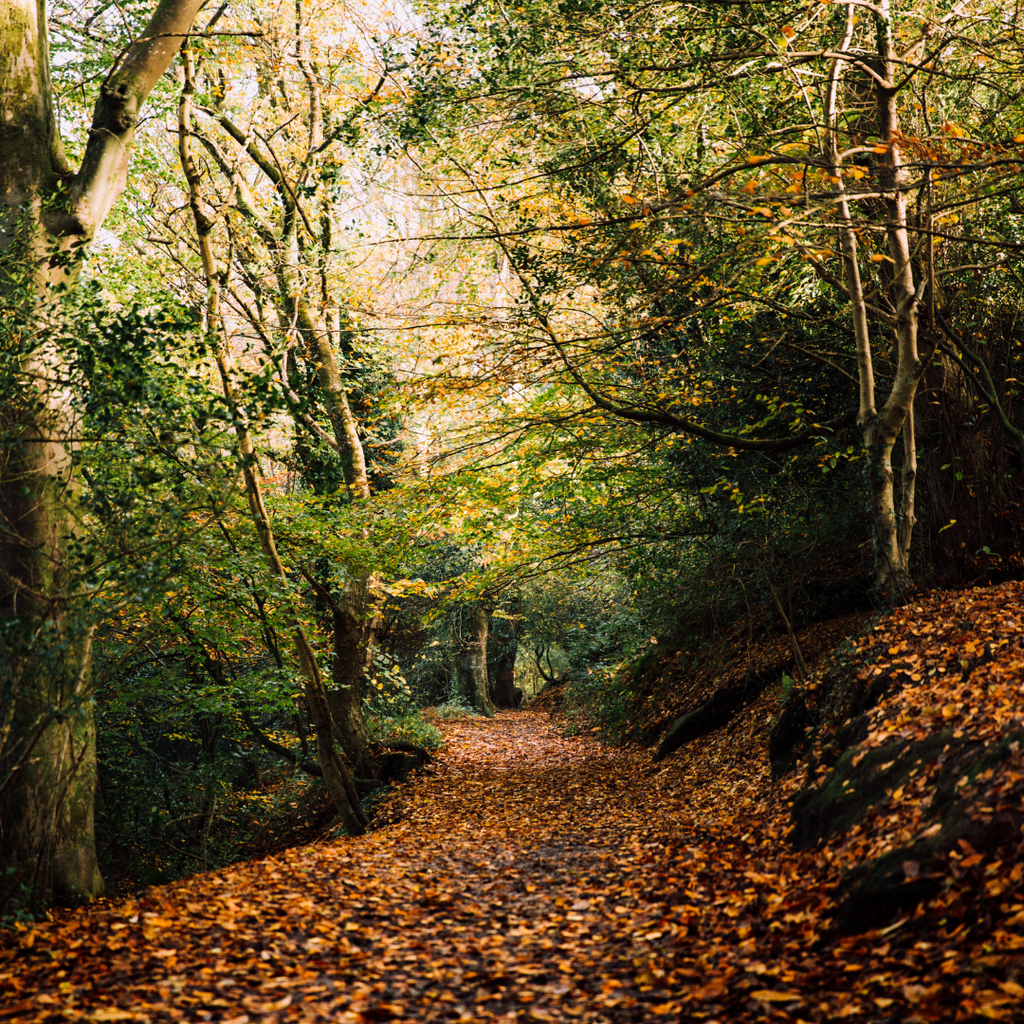 The rich splendour and generous mood of autumn invites us to reconnect with our senses and inspires us to celebrate nature's bounty in new and unexpected ways.
As the hedgerows burst with berries and blushing leaves envelop the ground, lighting a scented candle can enliven our senses with the warmth and joy of the harvest season and immerse us in the wonders of the natural world. Take an uplifting journey with us as we explore one of our favourite autumn-inspired collections, paired with a beautiful recipe from our friends at The Exploding Bakery.


Lovingly crafted with the magical beauty and folklore of Cornwall in mind, our Folk Collection evokes uplifting memories of walking in ancient woodlands blazing with sumptuous shades of maroon and gold, gathering wild blackberries from ripening hedgerows, and decorating the home with foraged foliage and treasured windfalls. Enchant your senses and embolden dull autumn days with the warming and honeyed aroma of Amber, the humble green notes of Moss, and the woody, spiced essence of Oak.
Amber
Inspiration is in abundance with the cosy glow of candlelight and the soft, calming scent of Amber. Embracing the harmonious autumn mood with a velvet-like blend of subtly sweet almond, earthy musk and delicate floral tones, Amber invites us to find a sense of balance, renew our energies, and revive our creativity.
Moss
The fresh and green woody aromas of Moss cultivate visions of exploring forgotten treasures of the forest and discovering the beautiful transformations of flora and fauna in the autumn months. Its earthy notes, punctuated with hints of floral geranium and calming cedarwood, enrich any space with the soothing, refreshing scent of the forest breeze after a rain shower.
Oak
With rich notes of woody oakmoss, spicy cinnamon and gentle bergamot, Oak evokes the maternal warmth and ethereal spirit of trees. Breathe in the relaxing aromatic scent of bark, reminiscent of making homemade wreaths with foraged bracken, dried herbs, and festive spices.



To celebrate the magic of the autumn season, we have partnered up with the Exploding Bakery, who have been delighting people with spectacular bakes since 2011. Going from strength to strength, they continue to take pride in their values and never compromise on what they believe is the right way to make cake.
The Exploding Bakery believe that good cake comes from the core. Starting with high-quality ingredients and adding their values and methods as they go, they have a beautiful vision to produce the world's best cakes. Whether it's a birthday you can't make, a far-flung friend in need of a little joy or a thank-you gift, the Exploding Bakery's cake gifting service has the gooey goodies to lift the spirits.
Our friends at the Exploding Bakery have kindly shared their delightfully sweet and fruity recipe for Plum Frangipane. Perfect for pairing with the warming, honeyed, and earthy notes of our Folk Collection.
Plum Frangipane Recipe
As the plum season is coming to a close, you may want to try this recipe with pears or blackberries. Or perhaps you can stash some of nature's treats in the freezer to keep your baking dreams warm during the colder months. 
Frangipane can capture the essence of the seasons, with this adaptable base recipe, it can take a summer strawberry aboard this almond vessel, but at the same time, a plump autumnal fig can be cradled in the ballast of its buttery almond sponge. This recipe uses plums, but any stone fruit or berry works. Some additional flavours can be added, a hit of vanilla can bring complexity, a pinch of cinnamon can bring warmth and a little citrus zest upon serving can bring a heady freshness.
Ingredients
250g soft butter
200g caster sugar
5 medium eggs
400g ground almonds
100g gluten free flour
pinch of salt
600g plums
50g caster sugar
60 flaked almonds
icing sugar, for dusting
Method
Preheat the oven to 160°C fan/350°F/gas 6 and line your 22 x 33 x 5cm (8½ x 13 x 2inch) baking tray (sheet pan).
Beat the softened butter and sugar together until combined and light in colour. Next, add the eggs and beat until fully combined and emulsified, then add the ground almonds, gluten-free flour and salt. Mix until fully combined – there's no need to beat this furiously, just enough to create a nice smooth batter.
Pour the mixture into your lined tray and spread it out evenly using a spatula. Randomly slice up your plums and remove the stones. Coat them in the 50g of sugar and scatter on top of the frangipane mix.
Finally, sprinkle the flaked almonds evenly across the top and place in the oven. Bake for 45–55 minutes. You're looking for a lovely light golden caramelisation to the cake and the flaked almonds.
Leave to cool in the tray for at least 15 minutes, then remove from the tray and dust with icing (confectioner's) sugar before serving while still a little warm. This will keep for 5 days in an airtight container in the fridge.
There's no reason why this recipe wouldn't work with other seasonal fruits, such as apricots, strawberries or gooseberries.
Whenever you bake with fresh produce from your local farmer's market or light your favourite St. Eval candle, you celebrate nature's bounty and honour the natural world by bringing its beautiful gifts into your home. We hope that our seasonal fragrances inspire you to keep finding new ways to delight the senses and connect with nature over the colder autumn and winter months.
What St. Eval fragrances do you indulge in over the autumn season? We'd love to hear from you, either by email at marketing@st-eval.com or on social media @stevalcandles.
#steval #explodingbakery #autumndelights
Alexandra Miller