A little sparkle from Uneeka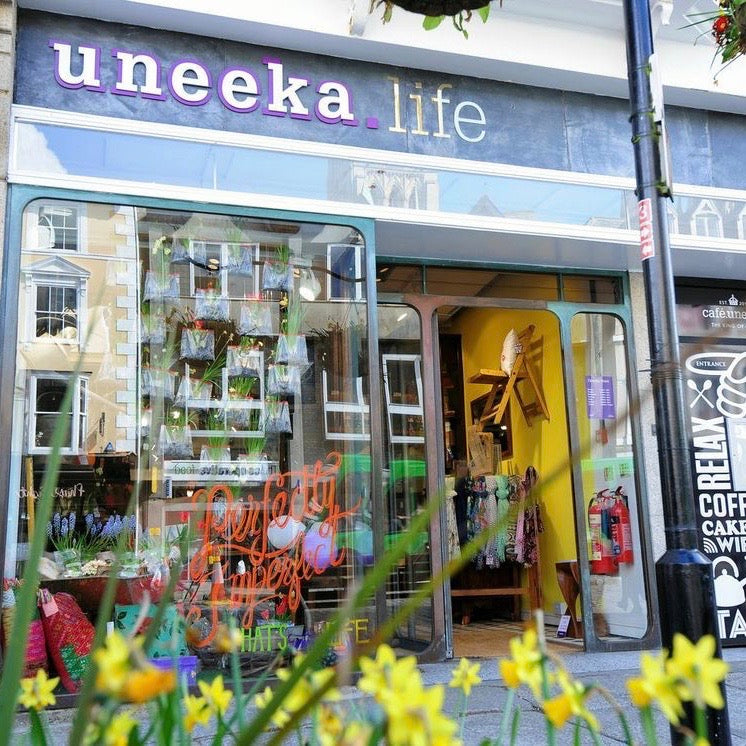 At St Eval Candle Company we are proud to partner with so many wonderful retailers. During these difficult times, we have decided to shine a light on those who have adapted rapidly to continue providing us all with much-needed comforts. The next in this series is Cornwall based Uneeka.
Started by Jodi Skelton in 2004, Uneeka began in a small space in the cosy setting of Lemon Street market in Truro. Since then they have grown into uneeka.home, a furniture shop on City Road, Truro, uneeka.life, a Lifestyle store & Cafe on Boscawen Street, Truro, and with their most recent expansion in October 2019 to an additional lifestyle store in Market Street Falmouth. 
Why did you decide to open? Where has it grown from? What is your passion?
'Our independent business has seen a lot of change over the years, we are proud to adapt and grow and always improve. We believe our ethos and dedication to forming great relationships with our suppliers has allowed us to grow, our customers love the personal touch on everything we sell. With inspirational designers in the South-West, we strive to source locally before looking further afield, supporting our community is important to all of our dedicated team.
Our passion is to provide our customers with a place they can buy quality, locally manufactured products as well as other ethically sourced & fairly traded items unpackaged or packaged as eco friendly as possible.'
What sets you apart from other shops on the high street?
'We are an independent retailer, offering an alternative from large chains, we love supporting other small businesses  and giving our customers a diverse range of quality products. Uneeka also thrives on creating a personal feeling with every purchase.'
How is St Eval displayed, used and enjoyed? How does it complement your stock?
-
'We have St Eval situated near the front of both our Truro and Falmouth shop locations with a candle burning daily to allow customers to experience the quality. We believe St Eval sets the standard for the quality & style of the products you'd find within our stores and makes a nice welcoming display as you enter our shops which nicely balances out the more colourful products we stock.'
What was your reason for choosing St Eval Candles?
-
'Firstly, all the products smell amazing, they are very high quality, the price points are accessible and we also love the way the candles are packaged in reusable containers or are made from easily recyclable materials.
We have tried and tested so many brands but none give as good as an experience as burning a St Eval Candle.'
Uneeka have recently started stocking our new Folk Collection, helping to raise important funds for local and national creative arts charities, including our very own Creative Kernow. With three new evocative fragrances: Amber, Moss and Oak. 
'We are so pleased to be supporting Creative Kernow and the creative arts scene by selling the Folk Collection in our shops in both Truro and Falmouth.'
-
What are your thoughts for the future?
'We aim to push the boundaries of our Uneeka Brand not just from Cornwall but nationwide.'
What are your St Eval best sellers and favourites?
-
'Without a doubt, our best sellers are Sea Salt and Bay & Rosemary tins however we have noticed the new Sea Mist and Sea Salt Coastal Pots are selling well since their launch earlier in the year and with the added bonus of having a stylish plant pot after you've burnt the candle, this sits well with our customers who enjoy minimal packaging.'
Thank you to Uneeka for their time, wonderful business story and continued loyalty.
#stevalshinealight #shoplocal
Sara-Jayne McKinty