A little sparkle from Van Hage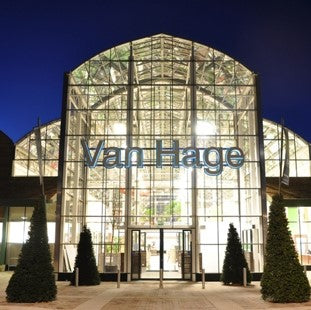 At St Eval Candle Company we are proud to partner with so many wonderful retailers. From gift shops to florists, cafes through to garden centres and everything in between. It's so important to support local and shop local where possible, and we want to shine a light on our incredible stockists and share their stories. 
The next in our 'Shine a Light' series is Van Hage Garden Centre. Van Hage is a beautiful British-based garden centre with over 60 years' experience at the cutting edge of garden and leisure retailing. They are still very much a family run independent business who pride themselves on being more than just a garden centre. This time of year, Van Hage is filled with beautiful Christmas decorations to bring festive cheer and celebrate the magic of the season across their three stores in Great Amwell, Chenies and Peterborough.
We spoke with Jonathan Crawley, CEO of Van Hage, to learn more about the company' passions, plans for the future and why they chose to stock St. Eval.
Why did you decide to open, where has the business grown from and what are your passions?
"The business was set up in late 1950's by Theadora and Cornelius Van Hage who moved to Britain after the war. What began as a bulb selling business, developed over the years to a nursery and from that, to one of the very first garden centres in the UK. Great Amwell was our first site and we expanded from there, with three sites now in total. Van Hage has been around since 1985 and we are proud to say the second generation Van Hage's are still involved in the business today.
From the very beginning the company has had a strong focus on selling the very best plants for your garden, which was where we first started. As we have grown, we've introduced new areas to our garden centres including perfume, toiletries and gifts, but keeping our focus on indoor and outdoor plants throughout. We pride ourselves in working with local and national growers, suppliers and companies and building an experience for the whole family; a one-stop shop for everything you need and a great family day out.
As the CEO, I am passionately interested in how people live and making the very most of their home environment no matter how small or large. I strongly believe horticulture fits into all spaces, no matter how small a flat or how large a manor house."
 -------
What sets you apart from other garden centres?
"We carry an incredibly extensive range of plants, homewares, gifts and so much more. Great Amwell, our flagship store, has 14 acres of retail space meaning we are able to offer a wide selection of products with a strong local focus. This rings true for all three  stores, having local products available in each branch which is incredibly important to us. We are known for our high quality, great service and being an independent and family run business."
Why did you choose to stock St. Eval?
"We were looking to work with a quality British supplier and were immediately drawn to St. Eval. We love the fusion of traditional and modern; candles made using traditional artisan methods, producing a product with a modern and contemporary feel but not losing the hand crafted and personal element which only comes with handmade products. We have proudly been a St. Eval stockist for many years and have watched the company grow and flourish, as they have with us."
-------
How is St Eval displayed, used and enjoyed and how does it complement your stock?
"St. Eval is our most important candle and room fragrance range. It is prominently displayed at the very font of the lifestyle section of the store. We find customers easily fall in love with the brand and come back time and time and again to add to their collections."
What are your plans and thoughts for the future?
"This year has been challenging for everyone, but we are looking to the future positively with exciting plans. As a first priority, we are looking to expand our food offering by introducing a farmers market solution inside all three garden centres which is incredibly exciting. Ahead of that, we are looking to expand outdoor eating area to create a fabulous outdoor space for next year. Finally, we are also looking to improve our online service, to serve people nationwide and beyond. This is a really exciting time at Van Hage with a lot to look forward to."
Thank you to Jonathan and Van Hage for their time, inspiring business story and continued loyalty.
To plan a visit to Van Hage, or order via their website, simply visit    vanhage.co.uk. 
#stevalshinealight #shoplocal
Sara-Jayne McKinty