Celebrating 25 years at St. Eval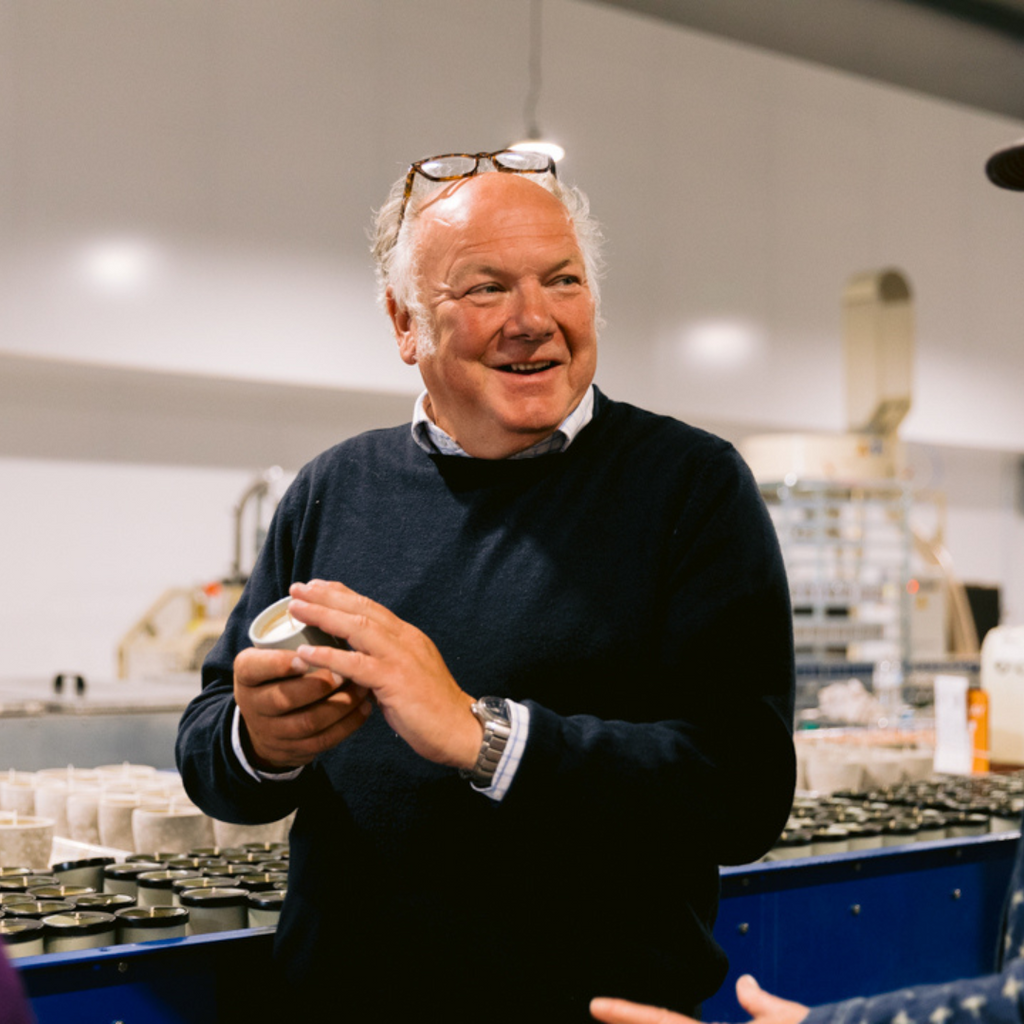 This week the St. Eval team gathered together in our brand-new canteen space to surprise our CEO, Ian Greaves, with a small gathering to celebrate his incredible 25 years with the company.
St. Eval was only in its fourth year when Ian joined to help our Founder, Sarah Young-Jamieson, run the company, and he has remained an integral part of the business ever since, managing the business for two decades before Sarah's son Harry joined us in 2017.  
Ian has long been the mastermind behind perfecting the art and science of candle making. As a member, and former Chairman, of the British Candlemakers Federation he is committed to raising the bar on candle standards and safety, and there's little that he doesn't know about candle making. Often being the friendly face greeting stockists at tradeshows, his passion has attracted many customers to St. Eval and many of our long-term relationships can be attributed to his dedication and personality.
As a company, St. Eval is committed to treading softly on the Earth, creating beautiful pieces with a focus on sustainability. As our sustainability leader, Ian has been much of the driving force behind integrating sustainable practices into the business.
In July 2022, we officially became a Certified B Corporation, legally embedding our commitment to place purpose beyond profit in all company endeavours. We are immensely proud of our B Corp Certification, alongside our Queen's Award for Enterprise in Sustainable Development which we were honoured to receive in 2021. Together, these achievements recognise and celebrate our commitment to putting people and planet first.
To show our appreciation for all of Ian's fantastic work over the years, we surprised him with a wonderful celebration bringing the entire St. Eval team together, complete with food from local company Avo Catering and two beautiful cakes from The Garden Baker (Sian did a great job in making these cakes look like the giant candles we envisioned!)
It was truly special hosting in our brand-new canteen space which Ian put so much work into creating for the team and was both a joyful and emotional event with touching speeches from our founder, Sara Young-Jamieson, and Ian himself.
A huge thank you, to Ian, for all the love he has show St. Eval over the years. As Sara Young-Jamieson put so beautifully in her speech; St. Eval wouldn't be where it is today without your support and dedication to the company.
Sara-Jayne McKinty