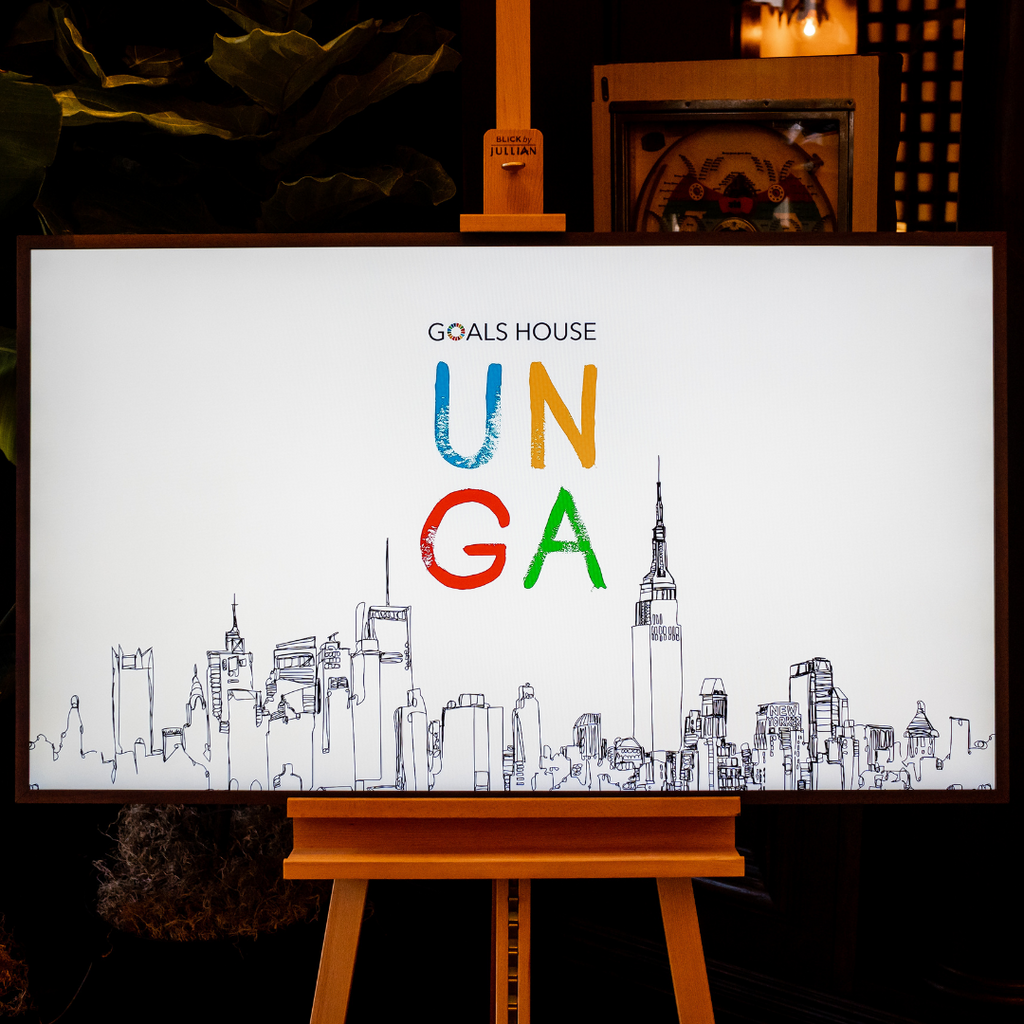 In September, Goals House were in New York, joining the UN General Assembly (UNGA) as they discussed some of the most important issues of our time. As a supporter of Goals House, we were delighted to work with them in creating a special collaborative candle to fragrance the event.
A community of internationally renowned activists, thinkers, political figures, business leaders, and entrepreneurs, Goals House comes together at significant global moments throughout the year, united in the drive to achieve the UN's Sustainable Development Goals.
Image Credit: Joe Short Photography
Goals House convened their community of global changemakers at the Tavern on the Green, an iconic venue in Central Park, with a shared mission of how, together, we can achieve the Global Goals. In attendance across the programme of events were some incredible organisations, activists and speakers, including  Prime Minister of Canada, Justin Trudeau, Amina J. Mohammed, UN Deputy Secretary-General, The Global Youth Biodiversity Network, Bono, Richard Branson, Robin Wright, Co-Director of Walk Free and UN Goodwill Ambassador, and Matt Damon.
Programming complemented the UN's agenda, focussing on what needs to be done to achieve net-zero, education, the future of fashion and tackling modern slavery, sustainable cities, health in the wake of the pandemic and ongoing international crises.
Image Credit: Joe Short Photography
A beacon of hope in dark times, candles have a special way of bringing people together, and in creating a candle in partnership with Goals House it was our wish to imbue the proceedings with hope and positivity. 
We donated the candles to Goals House to fragrance the space and for attendees as a special memorable gift. For fragrance, we chose our Bay & Rosemary fragrance: an invigorating fusion of soothing bay leaf and fresh rosemary, with deep earthy pine notes and woody accords. We knew that it would be the perfect addition to the week's proceedings. The power of fragrance to aid concentration is incredible and both rosemary and bay leaf have calming, focussing qualities and together they conjure an ambience perfect to complement such important thoughts and discussions.
Here at St. Eval, our candles, diffusers and body care products are designed with the environment in mind. We would love to hear from you for any ideas to further support our sustainability ethos, please share your thoughts with us on social @stevalcandles, or via email to marketing@st-eval.com.
#StEval #GoalsHouse