Dinner by Candlelight | Cooking with James Strawbridge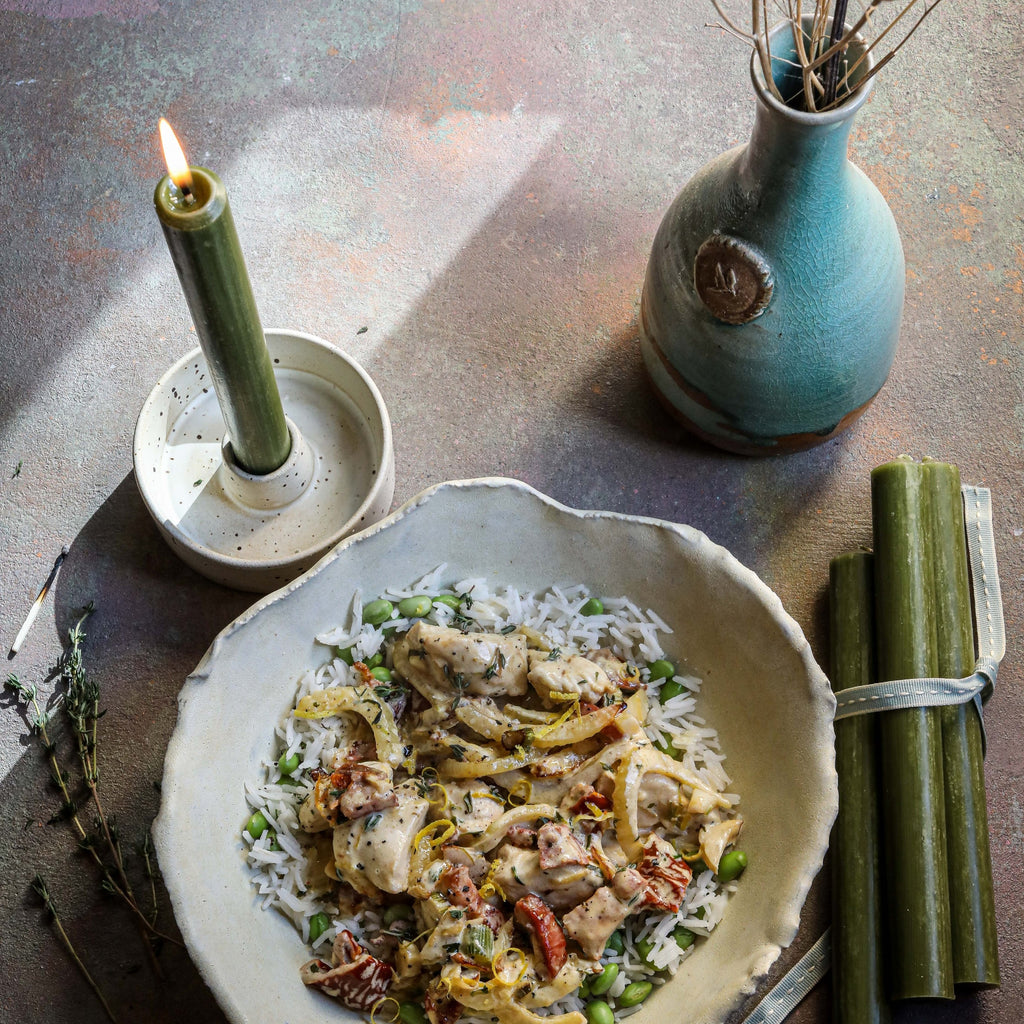 Autumn is in full swing; the temperatures are cooling, the nights are drawing in and now is the perfect time to snuggle up with tasty, comforting food to envelop you in a warm hug. When it comes to delicious food with sustainability in mind, James Strawbridge knows exactly what he's talking about.
A Cornish development chef, James has worked with many Cornish brands from Cornish Sea Salt to Boddington Berries inspiring and creating.
As a sustainable living expert with an emphasis on self-sufficiency, when not developing new recipes, James can be found foraging for wild food with his family, out at sea gig-rowing for his local club or painting the Cornish countryside. You may have even seen James alongside his father, Dick Strawbridge, making appearances on Escape to the Chateau!
Our Lemon & Thyme candle from our Summer Folk Collection inspired this delicious recipe which James created for us. Perfect to welcome the autumn season with the true essence of homemade comfort.
Chicken and Fennel Bake
Serves 2 
Ingredients 
2 free range chicken breasts, diced 
200ml double cream 
150g smoked pancetta 
100g sun dried tomatoes 
50g butter 
Splash of Pernod 
½ bulb of fennel, sliced 
4 cloves of garlic, diced 
Juice and zest of 1 lemon 
1 tbsp thyme 
Method: 
Start by sautéing your pancetta, fennel, and garlic in a pan with a knob of butter until it caramelises. Add the chicken and cook for 2-3 mins to sear the breast and keep it moist whilst cooking. 
Then add a generous splash of Pernod to deglaze the pan. Add cream, sundried tomato, lemon and thyme and gradually bring up to a gentle simmer. Try not to allow the cream to boil but cook the chicken for 6-8 minutes so its succulent and moist. 
Serve with basmati rice and steamed legumes.  
And voila! This delicious recipe is quick and easy to make but so flavourful and comforting: perfect for this time of year.
If you try this delicious recipe, make sure you tag us @stevalcandles and let us know what you think!
#stevalcooking #jamesstrawbridge